One of my Nerdy Gamer Peep™ friends wrote (over here):
My friend Matthew (Skip) is running a game of Call of Cthulhu for a bunch of us nerds. It takes place here in New Orleans, in 1928-1929.

Besides the obvious Cthulhu awesomeness (yaaaaay H.P. Lovecraft!), I thought the setting would provide for really good roleplaying and collaborative storytelling. We weren't being dropped into some world where we as the players (not the characters we're playing) aren't familiar with the land, the customs, the politics, etc. This is New Orleans. All the players are either from here or have been here for so long that they might as well be. At one point, our characters drive to Audubon Park, in the middle of the night, in the middle of a thunderstorm. Anyone who has ever lived in NOLA has basically done that.

You don't need to imagine such things – you just take your own personal memories and modify them to suit what the character is doing. And for me, there was an extra neat bit: our characters drove by my real family's home, where my actual grandfather would have been (he was born in 1922), hopefully either sleeping or causing a ruckus. Just neat.

Anyways, Skip recently was part of the Miskatonic University podcast (not yet uploaded), talking about our game and characters, and the New Orleans setting for this RPG in general, so I figured I'd dust off this post that I'd saved as a draft last November and actually post it up. Here's the character I developed…
Well, this isn't Will's character, this is mine in that very same game. I do need to do a better portrait of him. The inset was quick and dirty. But meet Langston August Eames IV (Augie to his friends):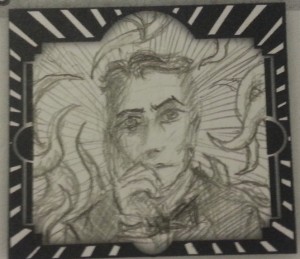 Langston August "Augie" Eames IV was born on October 31, 1894 to Sarah and Langston Eames III of West Haven, Connecticut. He never really got along with his parents primarily because they never really "got" him.  Augie was groomed from a very young age to follow in the footsteps of his father, grandfather, and great grandfather as a lawyer.  His parents sent him to the prestigious Miskatonic University of Arkham, Massachusetts to study law. He had other plans.
While at university and away from his father's hawk-like observation Augie dabbled in art and opium finding his muse in painting. He became fascinated with the extensive collection of occult literature in Miskatonic's library and joined the campus theosophy society. Eventually, he dropped out of school having found some success selling paintings in a local gallery. Once his parents caught wind of his exploits, his father immediately disowned him.
Distraught and bored Augie followed a group of ne'er-do-well artist and bohemian friends from Arkham to New Orleans in 1917 and it is there that he found his stride. Having avoided the 1918 draft and service in the Great War due to permanent tissue scarring from a hand injury while boating in 1916, Augie served his country at home by creating anti-German propaganda for the Department of Public Information. Since the war he has become a moderately well-known and successful avant garde "Yankee" artist. His paintings could be considered post-dadaist expressionism, at once disturbing and repulsive but also intriguingly alluring. He manufactures his own dyes and pigments much of the time out of foul and/or "magical" ingredients and he even uses the "failures." Augie often includes mythic, dream-like, and occultic themes in his works.
Though mildly depressive and in a seemingly perpetual state of ennui, Augie enjoys rambunctious parties with his bohemian and O.T.O. friends.  He is a self-proclaimed pansexual but hides this fact from the general public.  These decadent parties always include spirits and other elicit substances, scantily clad women and men, and they allow the coloreds and mulattoes to mingle with the white folk and women! Scandalous!
Augie managed to fake his way into joining the Masonic Lodge in 1919 and has reached the rank of Sublime Master Elected. He walks a fine line at the lodge trying to cover his predilections for the wild life. Unbeknownst to his Mason friends at the Germania Lodge No.46, Augie has also continued pursuing his occult leanings and interest in magic by joining the local Ordo Templi Orientis (O.T.O.) in 1921  He has reached the rank of Knight of the East & West and holds some sway among the secret society's other members.
He has an extensive and foppish wardrobe, a modest house on St. Charles Ave., a studio in the French Quarter, and a bright yellow Stutz Bearcat he bought in 1923. He is dabbling in photography and carries his Leica 1 camera everywhere. Augie considers gallery owner Sidney Boulet — who is the primary dealer of his work — his closest friend.